If you are looking for a quick healthy bite that feeds your soul, look no further than Roots and Rye. Founded in 2018 with two locations in Pasadena and one in Echo Park, their specialty are the acai bowls. According to their website, "We hope to inspire people to be more conscious of what they eat and their everyday diet. We also feel a responsibility of educating the public about health and wellness," and that's exactly what they do.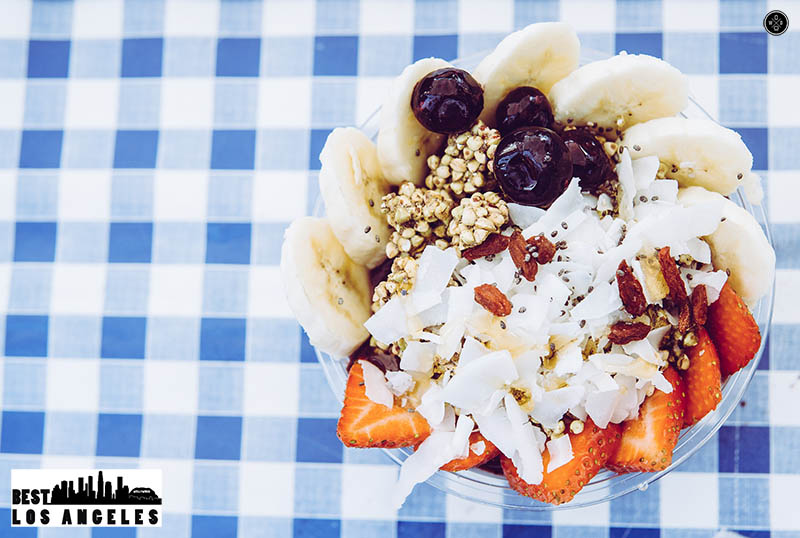 Visit Roots and Rye
Upon entering, you are greeted by a friendly face willing and ready to offer their expertise on each topping and their health benefits. If you have never been to a build your own juice bar before, it may be a little intimidating at first, but they are so welcoming you will feel right at home. The room is light and airy, covered in white modern tile. Next to the register is an ivy wall with a neon sign, perfect for a visually pleasing Instagram photo.
Roots and Rye offers an assortment of bases, such as acai (high in antioxidants), chia pudding (high in omega-3 fatty acids), and activated charcoal coconut (reduces cholesterol). You can choose one or mix multiple, depending on your preference. They offer unlimited toppings, such as fresh fruit (organic when available), various seeds, granola and dried berries. Don't forget to top it off with bee pollen, agave, or almond butter. Each bowl is handcrafted to your liking and the possibilities are endless.
Additionally, they offer build-your-own smoothies, milkshakes, ice cream and toast. Every menu item is 100% dairy-free, vegan and lactose friendly. Milk alternatives, such as almond, hemp, and oat milk can be used as a replacement. If you want to skip the bowl and side with a custom toast meal, they offer country style or gluten-free bread topped with avocado or a variety of spreads, including cashew butter, sunflower butter, peanut butter and almond butter.
Acai Bowls in Echo Park
If you are in a rush, you can also find Roots and Rye on Postmates delivery, as well as making use of their online ordering and pick-up services. There you can also find a list of bases and toppings with their health benefits listed, or walk in on a stroll in the neighborhood for high quality customer service. Whether you simply enjoy healthy eating, or you had one too many pizza slices over the weekend, Roots and Rye is a healthy, affordable option that will leave you feeling cleansed and brand new.