Mattress construction is a delicate project. But what makes a mattress perfect?
When shopping for a mattress, people think that the most expensive one is the best option. But most of them are missing a lot of points.
Parts of Mattress Construction
There are various parts to constructing a mattress. These would include its support, mattress upholstery, and mattress detailing.
When making a mattress, makers want to achieve a balance of gradual support. It means that it reacts to the spring unit, upholstery, and the user. When the user lies on it, the spring unit must have an element of movement that can easily adjust to the turns and twists.
If it doesn't move slightly, then the mattress's upholstery layers might be too firm or the spring unit is too firm.
The support of the mattress is another vital thing to consider.
It's the material used on top of the spring unit. There are various support materials.
Mattress makers who only want the best for their customers choose our high-quality materials.
Pacific Supplies offer soft materials that can be used in various parts of mattress construction.
What Fabric is Best for a Quality Mattress?
It depends on the kind of mattress to be built. Traditional fabrics are made from long strands of fiber. They are woven together to create a sheet of material.
Non-wovens consist of short fibers that are bonded together with chemical solvents or other binding methods.
They are commonly used because they are durable. In that case, the mattress made with non-woven can surely last longer than other mattresses made with different fabrics.
When opting for non-woven to be used in mattress construction, the end product will have high tensile strength. It means that it is water-resistant and it can provide better padding.
Many mattress makers use it from top to bottom. The materials that you can find here at Pacific Supplies are strong enough so they can withstand friction because of continual use. They also prevent sharp ends of spring from picturing the materials.
They are also perfect for building pillow-tops, making mattress coverings and backing.
Non-wovens are also stress-resistant allowing them to be treated for heat resistance.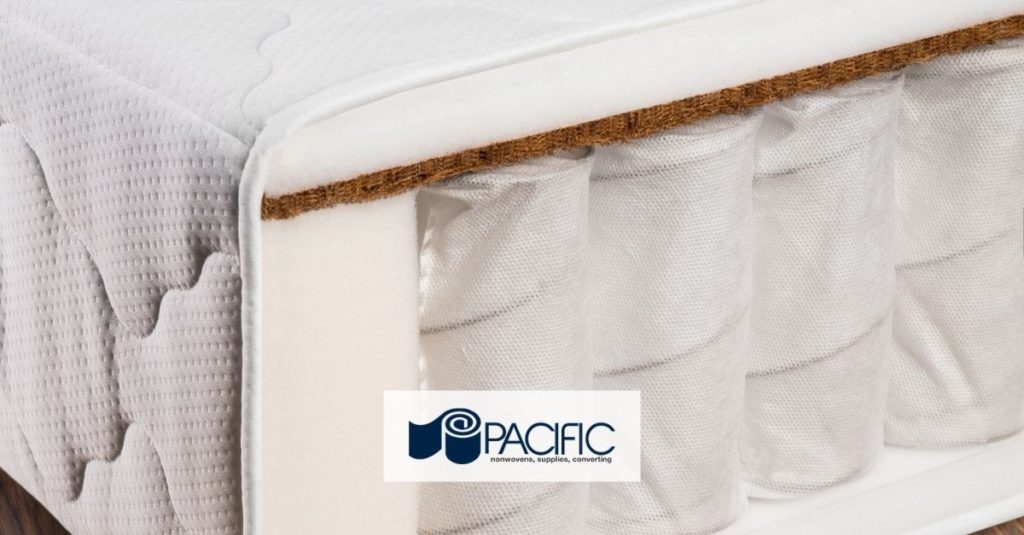 High-Quality Materials for Mattress Construction
Pacific Upholstery Supply has been the go-to shop of mattress manufacturers since 1946.
We have been providing them with premium quality textiles and supplies. With high-quality textiles and materials, you can assure your clients or customers that your products are of high quality.
We understand that your customers depend on you to make them the most comfortable mattress that they can be proud of. As a mattress manufacturer, you rely on us to provide you with quality materials.
With that in mind, we are always committed to maintaining the integrity of our products. Our products are the result of our 7 decades of experience. We stand behind our products and we make them with the needs of our clients in mind.
For your mattress construction needs, you may visit Pacific Upholstery Supply or call us today at (323) 321-2222.